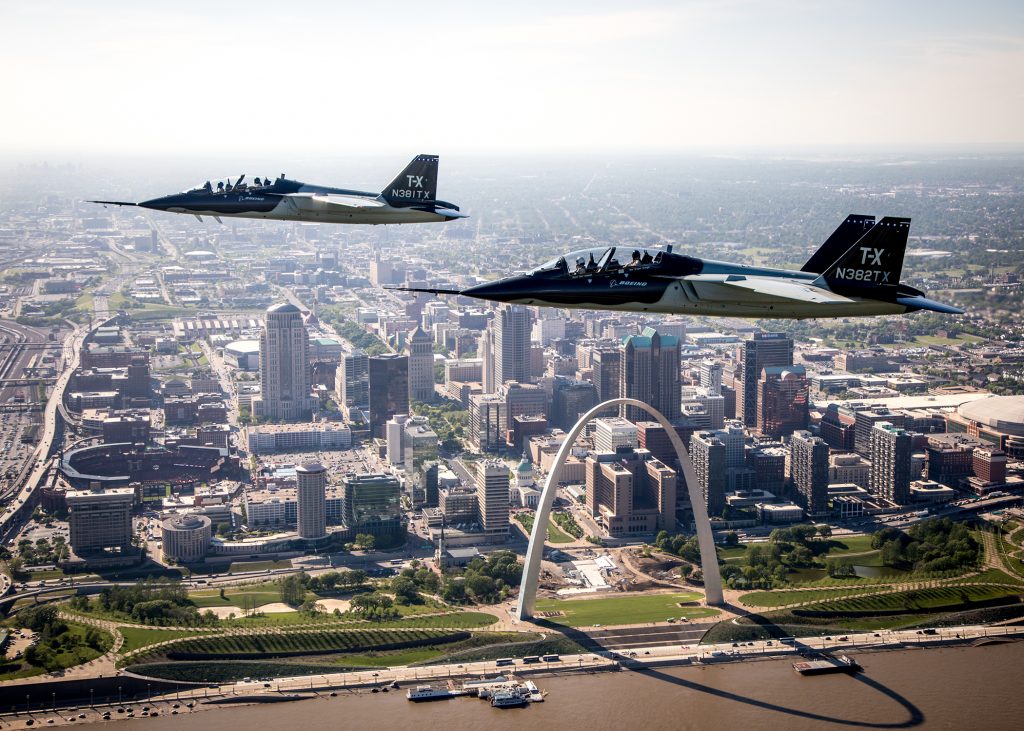 Machinists District 837 members at the company built two prototypes of the plane
By SHERI GASSAWAY
Correspondent
Boeing's selection of its St. Louis plant to build its new T-X training jets could support 1,800 local jobs, if the company is awarded the contract by the U.S. Air Force.
The recent announcement was great news for members of the International Association of Machinists and Aerospace Workers (IAMAW) District 837 at Boeing who built two prototypes of the jet. Test flights of both aircraft took place in December and again last month.
"We're hopeful Boeing will be awarded the contract," said Stephen McDerman, District 837 president and directing business representative. "We built and flew two prototypes of the plane, and we did it on budget and on schedule. We are the best in the industry for the job."
McDerman said the 1,800 jobs would include direct union and companywide positions at Boeing as well as indirect jobs through suppliers and secondary economic activity.
The Air Force contract could also result in new union jobs, depending on the time frame of the project, McDerman said.
WORKFORCE 'AMONG THE BEST'
U.S. Senator Claire McCaskill (D-MO) joined federal and state elected officials and regional business leaders at Boeing's May 15 announcement.
"Today's announcement is further proof that Boeing's St. Louis workforce is among the best and most innovative in the country," said McCaskill, a senior member of the Senate Armed Services Committee. "Boeing's T-X program is truly the future of U.S. Air Force training and the right choice for training future generations of pilots right here in Missouri."
The Boeing T-X is a training system designed specifically for the Air Force training mission. It would replace the service's aging fleet of  T-38 aircraft. The Air Force plans to buy 350 aircraft. The contract's estimated worth is $16 billion and likely would mean production into the 2030s.
"Our highly skilled St. Louis workforce designed, assembled and brought Boeing T-X to life, and they continue to define the future, not just for our company, but for our customers and the global aerospace industry," said Shelly Lavender, St. Louis senior executive and president of Boeing Military Aircraft.
DECISION LATER THIS YEAR
Boeing has teamed up with Saab, the Swedish maker of the Gripen fighter, in its bid for the work. Lockheed Martin and the Korean Aerospace Industries' T-50A and the Italian company Leonardo with its U.S. subsidiary DRS are also competing for the project.
McCaskill said she has confidence in Boeing's T-X because of its history of producing capable aircraft on-time and on-budget – such as the F/A-18 Super Hornet. She added that she expects the Air Force will also take into account that the T-50A is being heavily subsidized by the South Korean government.
The Air Force is expected to make a decision later this year.