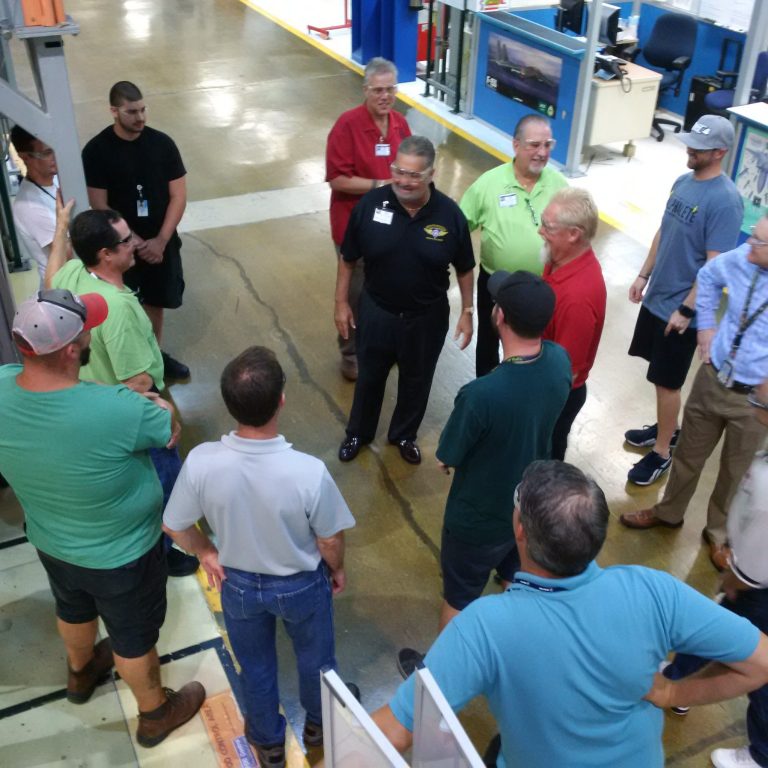 IAM International President Bob Martinez recently joined IAM Midwest Territory General Vice President Philip J. Gruber in a visit with IAM Local 837A and 837B members who work at the Boeing Integrated Defense Systems facility in Hazelwood, MO.
The visit was a part of a three city, three-day tour of the Midwest Territory.
The International President and General Vice President toured the Boeing facility where more than 2,200 IAM members make F-15 and F-18 fighter planes, tooling, and perform commercial work on the Boeing 777X. As they walked the shop floor, they met and talked with IAM members and stewards.
See photos from the Boeing tour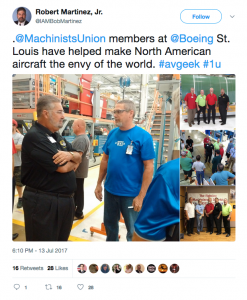 President Martinez posted about his experience on his personal Twitter account.
"Thank you to the leadership and members of IAM Locals 837A and 837B and District 837 for your hospitality," said Gruber. "When it comes to aerospace, no other workforce comes close to the Machinists. Our members continue to deliver a quality product – year after year – making the Boeing Company the largest aerospace company and leading manufacturer of commercial jetliners and defense systems in the world. It was a pleasure meeting our members and touring the St. Louis facility."
"It was an honor to escort International President Martinez and General Vice President Gruber through two of the buildings within the Boeing Company here in St. Louis," said IAM District 837 Directing Business Representative Steve McDerman, who noted the trip was especially significant given Missouri's current fight against right to work and other anti-working family initiatives. "It's important our members get to know their leadership and who's fighting on their behalf."
The two previous legs of Martinez and Gruber's tour included IAM Local 873 members at John Deere in Horicon, WI and IAM Local 1947 members at Mercury Marine in Fon du Lac, WI. Read Martinez, Gruber Visit IAM Members at John Deere and Mercury Marine.