The Summer 2019 IAM Journal will be hitting the doorsteps on IAM members by late May. Here's a first look at one of several articles in this edition.
The opioid epidemic is sweeping across the United States. It's affecting young and old, men and women, rich and poor. It doesn't discriminate or care about your race, gender, income or upbringing. Chances are you know someone affected by opioid addiction.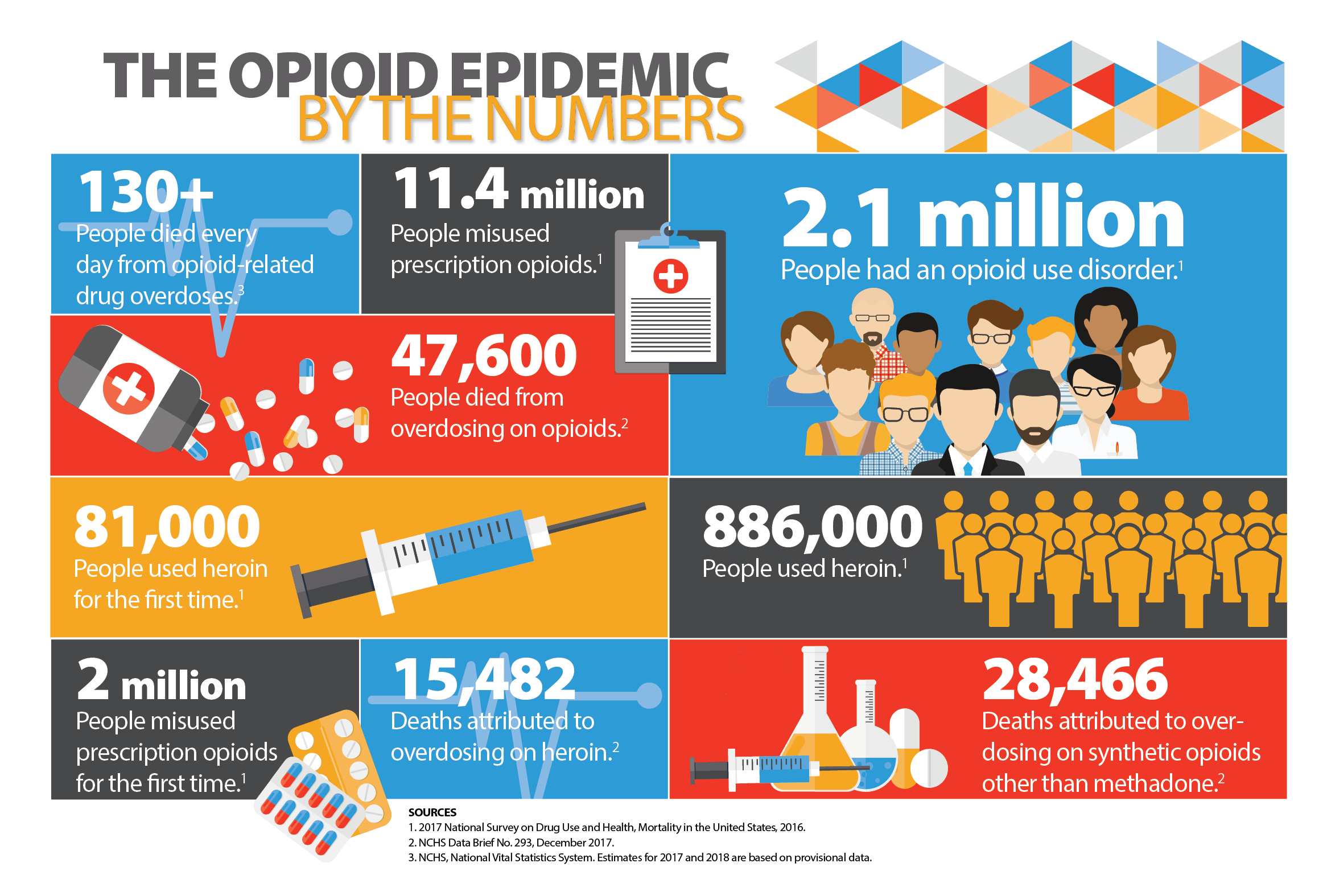 In 2017, the U.S. Department of Health and Human Services declared a public health emergency regarding the opioid crisis. According to the Centers for Disease Control, an average of 130 people in the U.S. die each day from opioid-related drug overdoses. Sadly, that number continues to rise, as it has every year for the past 20 years.
How someone gets addicted to opioids varies, but there has been a common theme: Person gets injured, prescribed opioid painkillers, gets addicted to painkillers then can no longer afford them. Then the person gets turned on to heroin or another opiate because it's cheaper and easier to get.
Opioids are a class of highly-addictive drugs. Derived from the poppy plant, opioids can be found in heroin and many prescription drugs like Vicodin, OxyContin, codeine, morphine and a specific deadly painkiller that is sadly becoming a household name, fentanyl.
Opioids are not the only drugs affecting working families, dependency on alcohol and other drugs can have a profound impact on people's lives.
HELP FOR THE IAM FAMILY
The IAM Executive Council recognizes the growing needs of the membership when it comes to dealing with addiction. In January, Vinny Ceraso was appointed as the Assistant Director of the IAM Employee Assistance Program and tasked with heading up the IAM Addiction Services Program.
The new program gives members a place to go for confidential help when they or a family member are struggling with drugs or alcohol. Members can call 1-888-250-4IAM (4426) at any time, day or night and speak directly with Ceraso, an addiction specialist who has been assisting others for over 25 years.
"You call that number and I'll do an assessment to figure out exactly what your needs are," said Ceraso. "We'll take a look at your insurance to determine all the levels of care that are covered under your policy."
The Addiction Services Program works within the confines of your current health care coverage to find the best treatment for your specific needs, or the needs of anyone covered under your health care plan.
"We don't place people in a facility that their insurance doesn't cover," said Ceraso. "We don't want them to get out and have a huge bill to worry about."
All facilities the Addiction Services Program utilizes have been vetted to ensure quality treatment for IAM members.
"If I wouldn't send my own family member to a facility, I certainly wouldn't send my Machinists family member there," said Ceraso. "You have to pick the right treatment center. It might not be in your ZIP code, but there is a right treatment center out there for you."
Educating the IAM membership about the new program is the first step. Since accepting the position, Ceraso has been traveling around the country to various IAM meetings and conferences speaking and handing out literature about the Addiction Services Program.
"My goal is to spread the news that we have this benefit to every single local in the country," said Ceraso. "I want the officers of every district to know we have these services. It's a big goal, but I'm up for the challenge."
The long-term goal of the program is to help as many people as possible.
"My goal is that in a few years from now, we will be helping double digit people find treatment and get well every single month," said Ceraso.
THE MAN RUNNING THE PROGRAM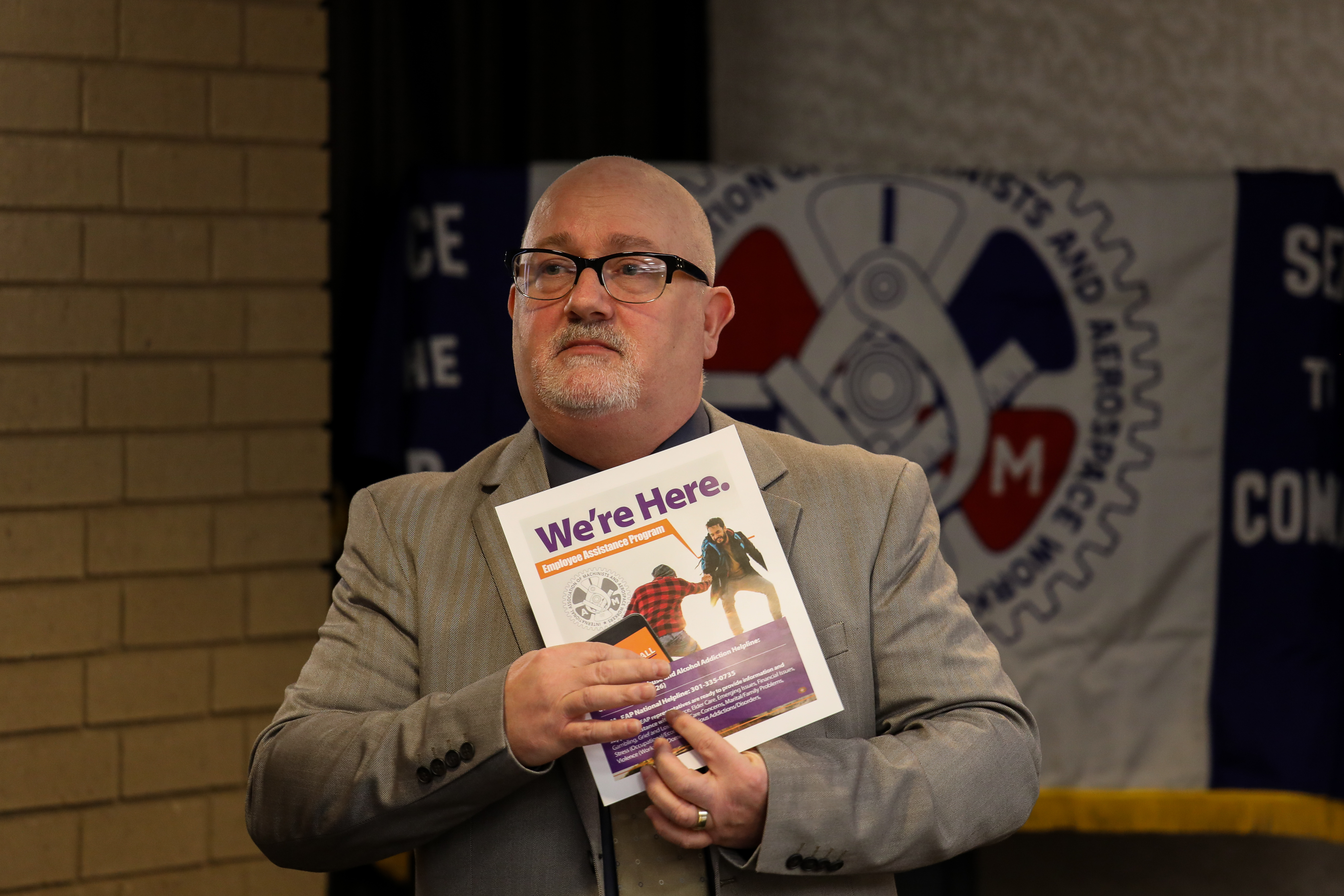 Originally from Philadelphia, but now hailing from South Jersey, Ceraso initiated into Local 1776, District 141 when he began working at U.S. Airlines.
Ceraso left the airlines in 2006 and went on to a help others with their addiction problems. He never strayed very far from his union, as he has worked closely with the IAM EAP Department over the years, giving classes and speaking at conferences.
Ceraso is a Certified Employee Assistance Professional, Substance Abuse Professional, Certified Intervention Professional and Level II Board Registered Interventionist. He has also been clean and sober for the last 32½ years.
Ceraso is open about his struggle with addiction and his journey to sobriety.
"I often share my own story with the people I am trying to help, so they know I'm not just some guy at the end of the phone," said Ceraso. "I've walked where you walk."
Ceraso's education, credentials and experience in the field make him extremely qualified to lead this new program. However, his real-life experience may be what has prepared him for this job more than anything else.
"If it wasn't for my union, I would be dead by now," said Ceraso. "I almost literally died three separate times before I finally went into treatment."
One of those times was following a terrible car crash in November 1984, when the 19-year-old received his last rights from a priest.
"Most people would think that's when you get help," said Ceraso. But it's not. "It wasn't until 18 months later when I was standing in front of a judge in Philadelphia. That's when it dawned on me that I wasn't built for jail so I better do something about it. When the consequences outweighed the fun, it was time to make a change."
Ceraso wants parents of children who are addicted to drugs or alcohol to know that it's not their fault, and they can't fix it by themselves.
"I have very good parents, grew up in a traditional Italian Catholic family in Philadelphia," said Ceraso. "None of my brothers and sisters suffered from this, so it certainly wasn't my parents' fault."
He urges people to let the professionals handle the treatment of their loved ones.
"If you're a parent or a spouse, you want to reach out to us," said Ceraso. "Don't try to do it on your own. You are playing with your loved one's life and it's not worth taking a chance."
He also cautions members not to let pride get in the way when it comes to getting help for addiction.
"There are plenty of good working-class people that get hooked on this stuff," said Ceraso. "A lot of times it starts with an injury on the job then it gets away from you. It's certainly not a moral issue. It's a medical issue.
"Addicts aren't bad people trying to get good, we're sick people trying to get well."
Ceraso is extremely passionate about helping others in their struggle for sobriety. And for good reason.
He feels blessed to be able to do it for the union that saved him.
"I have this feeling of trying to repay a favor that was done for me in 1986," said Ceraso. "I turned to my union for assistance with my alcohol and drug problem. They got me the help I needed and had me placed in treatment.
"I've been sober ever since. I feel that I've not ever repaid that, so I just keep trying."
– AH